Pass the PANCE with confidence!
Helping PA students pass the most important exam they'll ever take with PANCE practice tests.
Are you juggling the rigorous workload of PA school while also attempting to study for the PANCE?
Keep reading if this describes you
I'm too busy with clinical rotations and EORs to focus on the PANCE
The content is overwhelming
I don't have enough time to study everything
I struggle to retain information
I don't know what I don't know
I get it.
I remember being in PA school, enduring the rigorous didactic and clinical curriculum. As if that wasn't challenging enough, the PANCE was always something lingering over my head.
How do I study for this ON TOP OF everything else?
Am I prepared enough?
What happens if I don't pass?
Trust me, I remember those feelings like it was yesterday.
I remember trying to get my hands on as many practice questions and practice tests as I could, because those are what helped me learn and retain the most information. And as it turns out, research confirms this.
The most effective way to study for an exam is to practice the exam in the same format it's given.
Your full-length practice test
All Things PA-C has shared hundreds of PANCE practice questions on Instagram. We've packaged the best questions into a convenient PDF download.
What you'll receive:
300 exam questions written in the style and format of the PANCE exam
Questions that follow the PANCE Blueprint (medical content and task categories)
Answers to all 300 questions
Explanations for every answer to enhance learning
PANCE-specific test-taking tips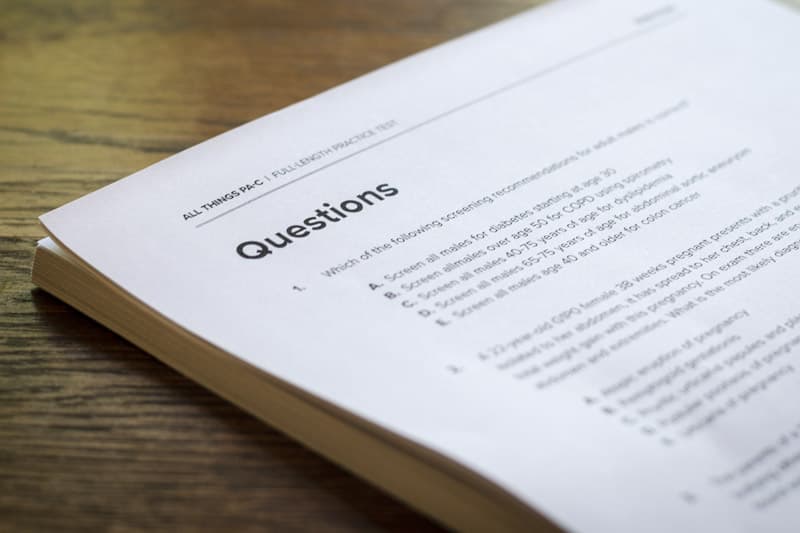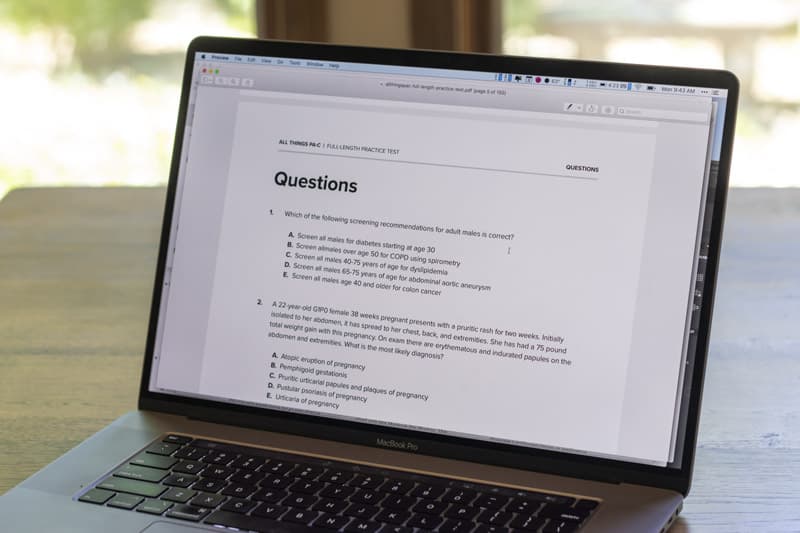 Take the test
Review your answers
Study the explanations
Who is this product for?
PA students in the final months of their program and preparing for the PANCE
PA students currently on clinical rotations
PA students in their didactic year
Certified PAs preparing for the PANRE
Certified PAs trying to stay current on general medical knowledge
Why a practice test?
Studies have found that practice test questions are one of the most effective study techniques
Well-designed study questions enhance recall of information
They assess how well you're able to apply what you've read and learned
Practice exams help you identify areas of weakness
Practice exams help relieve fear and anxiety about the actual exam
Practice exams help reinforce what you've already learned and make it more likely you'll retrieve the information later
Practice exams help you familiarize yourself with the style of the PANCE and practice timing
Bottom line – Practice tests help you PASS THE PANCE!
See what others are saying
I'd always loved seeing the questions that All Things PA-C posted on Instagram. When I found out there was going to be a full-length practice exam, I was ecstatic. I had been looking for ways to practice sitting down for a 300-question exam before taking my PANCE. Other resources provided some options, but honestly none of them were measuring up to what I was wanting. The All Things PA-C practice exam was exactly what I was looking for! I was able to take the practice exam, and also check my answers afterwards, with full explanations! A few other resources I'd used didn't provide explanations, so I never knew how well I was truly performing. The PANCE is a marathon, and this practice exam is an excellent training tool! I would recommend the All Things PA-C practice exam to any and all PAs prepping to take the PANCE. Not only was it great practice, but it also provided me some stress relief. Plus, this practice exam is way cheaper than any other resource I used. I passed my PANCE the first time around, and I believe the All Things PA-C practice exam helped me to do so!

Terra Kenny, PA-C
Taking practice exams was the best way to study for the PANCE in my case! After a while, all the resources and exams I was using started to seem similar. Luckily, I found the All Things PA-C practice test and it was a refreshing change in questions and content! I took the practice test 1 week before I took boards and I feel like it really helped prepare me for the length of the exam and type of questions asked! The explanations to each question on the practice test were extremely helpful as well. I passed my PANCE on the first go around and the All Things PA-C practice test definitely helped me to achieve that goal!!

Katelyn Espinoza, PA-C
All Things PA-C practice exam helped prepare me to take the PANCE and helped ease my anxiety leading up to test day. I felt well prepared knowing that I had already taken an exam formatted similarly to PANCE (i.e. number of questions, structure of questions, etc.). The price is hard to beat too! I ended up passing PANCE my first time taking it, and would recommend this practice exam to all PA students studying for boards.

Katie S, PA-C
Thank you again for your practice exam! I passed my PANCE exam last week with a score way over passing!! I found the exam to be similar question style to yours and I appreciate you not taking advantage and charging a ton of money like all the other sites. I thought your exam also gave much more feedback than the practice exams, too!

Erica LoBuglio, PA-C
I truly feel these questions helped me pass the PANCE on my first time. While I used other study sources as well, when comparing the question banks I used to my actual PANCE experience, I felt these questions most closely mimicked the PANCE in both style and level of difficulty. The answer explanations were clearly written and were very helpful in allowing me to locate areas I was weak in, as well as helping to fill in gaps where I may know the answer, but not clearly understand why it is correct. I think this was a great resource to have, and was very happy to have it.

William Kossenjans, PA-C
The PA-C behind the best PANCE practice test
Hi! I'm Rebekah, proud PA-C. I've worked in emergency medicine, family medicine, and PA education over the last 8 years.
I love the PA profession, and all it's done for me. I mostly love the flexibility it's given me to live an intentional life both professionally and personally. I've worked long 12 hours shifts in the ED, done the 9-5 in the outpatient world, and now spend most of my time teaching and mentoring the next generation of PAs in the classroom. I've done all this while balancing the role of wife and mom to 4 littles.
My current passion is helping PA students prepare for the PANCE and their future career, helping college and non-traditional students get into PA school, and building a community of passionate PAs on social media who help support one another. I manage All Things PA-C where I post all my best resources and engage with this awesome community!
FAQ
Are these the same questions from your Instagram account?

Yes! After many requests from our followers, we put together the best questions from our feed all in one convenient and easy to print PDF download. This allows you to sit and take a full-length practice test similar to the PANCE.

Do you offer refunds?

Yes. If you do not pass the PANCE, you are eligible to receive a full refund.

How will it be delivered to me?

The practice test is a PDF download. You'll be able to download the PDF from the order confirmation page and will receive a link to download it in your email.

How similar is this to the real PANCE exam?

All questions follow the PANCE Content Blueprint and are written in the format and style NCCPA uses for questions. This practice test is provided as a convenient and print-friendly PDF download, while the PANCE exam itself is administer via computer at proctored locations.

Do you have any other resources available?

We're actively working on new resources for pre-PA, PA students and certified PAs, including practice tests with all new questions. Stay tuned!