End of rotation exams and PANCE preparation requires a significant amount of self-study and independent learning. PA students have limited time during the clinical year and must optimize their study strategy. Good resources are extremely important to maximize time on task.
During the clinical year, I recommend both the NCCPA Blueprint and the PAEA Blueprint and Topic List to guide your study strategy. Focus on whatever specialty you're in, and simultaneously review general topics and practice questions. Prioritize your general study on the categories which carry the heaviest weight on the PANCE Blueprint (nearly a quarter of the PANCE is over the cardiovascular and pulmonary system!).
I recommend a good mix of blueprint-focused outlined material as well practice test questions. For clinicals, there are a few good "rapid-fire" resources as well, which help you prepare for common questions and patients you may encounter.
While there are hundreds of guides, question banks and pocket books out there, YOU DON'T NEED EVERY RESOURCE AVAILABLE. Pick a few that utilize a variety of learning methods such as outline format, case studies, rapid-fire, etc. And make sure you have plenty of practice questions as they are of the most important study methods for learning and retention!
Here are 5 great resources for the clinical year and PANCE prep:
Of course I recommend our exam! We created it after realizing there weren't enough quality practice exams or practice questions that won't break the bank. Studies show practicing exam-style questions are one of the best study methods for passing board exams. Doing at least one full-length exam is recommended before you sit for the PANCE and you won't find a more affordable option than this. Questions are modeled using NCCPAs style guide and most closely resemble what you'll see on the PANCE.

It's no secret I'm a fan of Smarty PANCE. A couple of reasons I love it so much is it follows the NCCPA and PAEA blueprints, and is heavily focused on practice questions. The content is concise yet covers all the most pertinent information on each topic. You can use it for a quick review or more in-depth studying if desired. It's also one of the best bargains out there as far as what you get for what you pay. I have a blog post with a full-review of Smarty PANCE that includes a discount code at the end you can use for 10% off.
This is the only resource developed and endorsed by the American Academy of PAs (AAPA) and the Physician Assistant Education Association (PAEA). This is the resource I personally used the most for studying. I utilized it for the PANCE and my first PANRE. Following the NCCPA blueprint, each chapter focuses on a body system and outlines in a concise, easy to read format everything you need to know. Each section has a few PANCE-style practice questions to assess your knowledge.
The Case Files Collection is a great resource for clinical rotations and PANCE review. It was one of my favorite resources to use while studying for the PANCE and PANRE. There is a book for almost every specialty, each containing dozens of practical clinical cases covering the most relevant topics. Each case includes a complete discussion, clinical pearls and references, definitions of key terms, and PANCE-style review questions with detailed explanations of the correct answers. If you're lucky, your program may have access to these if they subscribe to Access Medicine. If not, it would be expensive to purchase them all. I recommend internal medicine, family medicine, and emergency medicine as they cover a large portion of the NCCPA blueprint.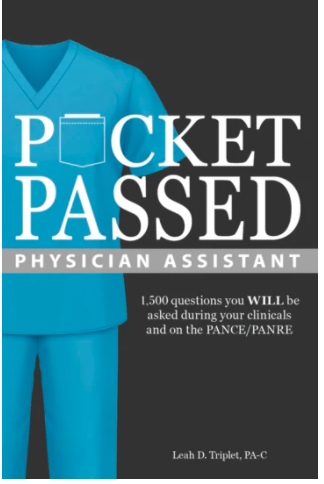 I recently had the chance to review Pocket Passed, and was very impressed. Small enough to fit in your pocket or bag, you can pull it out during down time between patients or keep it close anytime you have a few minutes to spare. It includes 1,500 rapid-fire questions you are likely to be asked on rotations, over content that is covered on the PANCE. Having one good rapid-fire resource in your collection is a good idea, and this is one I'm really digging right now.
Remember, there are many resources out there. You don't need to break the bank, but consider this an investment as you prepare to take some of the biggest exams of your academic career. Also, make sure to check with your program and see what resources they have available to borrow or utilize. Access Medicine and Ovid/Lipincot, for example, are electronic databases many PA programs subscribe to and have some include some of the resources above.