I'm frequently asked about gift ideas for PA students or new grads, which is why I love putting together a holiday gift guide. The 2019 gift guide was a huge hit, so we're back for 2020! I really like to think through both fun and practical ideas for PA students. So, here you go!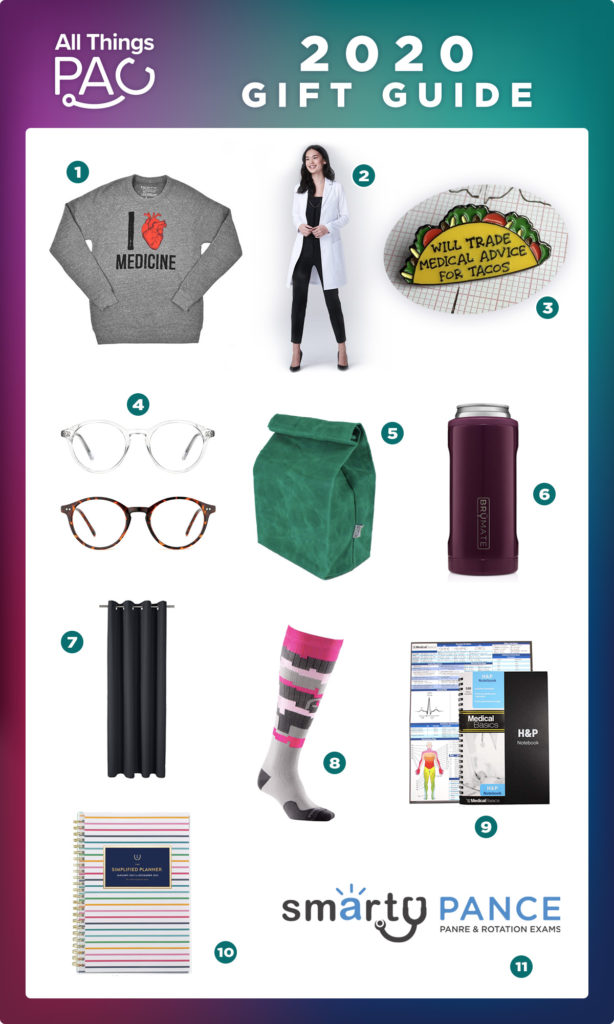 I love Medthusiast for so many reasons. The company was founded by a PA and has fun, witty medical T's and sweatshirts for all healthcare professions. I'm not lying when I say my fleece "I Heart Medicine" sweatshirt is the most comfortable thing I own! Plenty of witty medical puns to choose from, including some specific for PAs!
Another PA founded company, Medilita makes stylish and quality labs coats, scrubs, and medical clothing. I own many lab coats and my Medelita Vandi fit is my absolute favorite. It's the classic black dress of lab coats. The embroidery is beautiful. Purchase one for your favorite PA students with their name and "PA-C" credential; it's the perfect gift to motivate them through the rest of school. Medelita is currently running a 30% off Black Friday sale!
Need a budget friendly gift idea for your favorite PA? Rad girl creations has witty pins to add some fun flare to your lab coat, as well as other fun gifts like decals, mugs, socks, badge wheels and more. Most gifts are under $15
Whether you're a student studying all hours of the night, or a practicing PA, we all spend too many hours behind screens. Especially over the last year with the added strain of Zoom calls and virtual meetings. Protect your eyes with these blue light blocking specs which are practical and stylish! I have this pair and keep one at home, and one in my work bag.
We all know packing a lunch is healthier and cheaper than eating out day after day. These canvas lunch bags are environmentally friendly and pack well in your work bag or backpack. Perfect for students and clinicians!
Not just for seltzers and beers, these BruMate insulated cans will keep any 12 oz slim can cold for hours. Use it for energy drinks before those early morning shifts and classes, and for your favorite cold beverages on the weekends.
This may be an unusual gift to ask for, but trust me you'll be thanking me after your first stretch of night shifts. Schedules for PA students and PAs doing shift work can be chaotic, and creating an optimal sleep environment is key to restoration and performing your best.
Working those long shifts on your feet during clinclas isn't easy, and having a good pair of compression socks is a must. These Pro Compression socks are stylish and provide great support. There's a pattern or bright color to match every personality.
Back by popular demand, this H&P notebook is perfect for students on rotations and PAs that round on many patients. It has 100 H&P templates to write notes now, and staff with your preceptor or document electronically later. They're perfect for keeping patient logs while on rotations, too.
This is the only planner I've ever managed to keep and utilize throughout an entire year. The concept of Emily Ley's Simplified Planner is exactly that, to simplify your life. The calendar has a simple layout with a schedule and to-do list for each day. Not too much, not too little. It's perfect for students; mark your exams and important dates, plus what you wish to accomplish each day.
Besides the All Things PA-C practice exam, Smarty PANCE is the number one resource I endorse and recommend for PA students. Not just for PANCE prep, the resources in Smarty PANCE will help you summarize didactic content and review key pearls during the clinical year. The program contains courses, quizzes, practice questions, EOR exams, flashcards, and video lessons among other things, and follows the PANCE blueprint. The price is unbeatable compared to other PANCE prep resources, plus you can get an additional 10% off using code ALLTHINGSPAC. This is a perfect thing to ask for if someone is offering!
This post contains affiliate links, which means if you click the link and purchase the item, I may receive a small commission. All opinions are my own.